THREE MISTAKES  SMART WOMEN MAKE THAT KEEP THEM  DEAD TO SEX 
AND THREATENS THEIR RELATIONSHIPS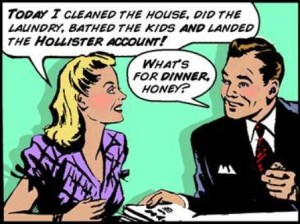 Unlike men, women do not actively explore their sexuality as adolescents or adults. Instead we rely on our man to lead us, to touch us –and to bring us to orgasm. Just like in the movies, we want it to be romantic, exciting and EFFORTLESS.
In the beginning, due to the hormones supporting mate selection,  we can flirt, take risks, and draw that special person to us.  Once a decision to commit is made, the hormones are rebalanced and we are left to our own devices.  There are no special hormonal boosters to promote sexual activity over the long term.
And anyway, women become consumed with providing the emotional glue for the family.
We find ourselve too tired, too preoccupied, too angry to open up for sex. And not as experienced with the benefits of it, and because we have other emotional outlets, we give up on sex, hoping our guys won't notice or won't care. The deal is, they do care about sex–a lot. And  they are bereft if it's not happening.
If you find yourself having "get it over with sex", or going to bed before your spouse so he won't initiate sex, or never thinking about sex, this talk is for you.
We will look at the causes of low libido in women and what we can do about it.
If the recent interest in 50 Shades of Grey is an indication of women's current interest in sex, we have another sexual revolution on our hands. The time is right for women to be proactive  about forming and growing sexually fulfilling relationships.
Jayne Weatherbe will present this talk. She is a Marriage, Family, Individual and Sex Therapist in private practise in Victoria for 30 years. Her credentials include Clinical Membership in the B.C.divisions of the American Association of Marriage and Family Therapy, Clinical Supervisor in same association,Registered Clinical Counsellor in BCACC, Member of the American Association of Sex Educators, Counsellors and Therapists and member of EMDRIA.
TO REGISTER: CALL 250-388-6434
August 14, 2012        7:00 – 8:30 pm
"There's something about the way that you work. I trust you and I am getting better. People are noticing and I am not bothered by ...


A 55 year old man struggling with no sexual desire in new marriage says…

"This is a compliment to you. I hear your voice telling me that I don't need to suffer anymore."


A client from Sidney says…

"It feels good to get those things off my chest and to understand the primitive brain's part in my emotions."


A client from Greater Victoria says…

"You seem to ask the right questions that get us where we need to go."


A client on Vancouver Island, BC

"I'm beginning to wake up. I'm working to own myself more. It might be marvelous."


A Client from Victoria, BC