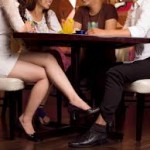 As summer winds down and families prepare for another school year, I hope you have had
the experience of reconnecting with your lover / partner. A good reason to send your
children to their grandparents or to camp is so the adults can reclaim their home and
make it a more erotic space. Sex in different parts of the house,
wandering around naked and lustful kisses in the kitchen are all part of reclaiming
the erotic bond in your household. The trick now that they are back is to keep it going. Can
you have a
hidden erotic connection going with your partner while you're making lunches for the kids
or playing video games ? Can you flirt while feeding the baby ?
That capacity to keep 2 roles going at once is good for family lifeand your nervous system.
Children and teens benefit when their parents are getting it on with each other.
The spiceynes in the air means somebody is firing on all cylinders and is alive and well.
This attunement is good for us. And it is catchy in a good way. We're meant to resonate
with each other's well being.
If we attend to the children too much, oxytocin builds [ the cuddle hormone ] and
testosterone declines. [ the desire for sex hormone ]. One parent. usually the woman is
more attuned to the parenting cues and less so to the erotic cues. Finding a way to protect
and develop the erotic charge keeps marriages and families in the pleasure zone. Adults
are happier, their zest for each other is the cradle that children and teens rock in.
PLEASE EMAIL ME WITH YOUR EFFORTS TO KEEP YOUR LOVE LIFE ALIVE WHILE
PARENTING.WE'LL CREATE A FACEBOOK PAGE JUST FOR THIS WORTHY
VENTURE
"There's something about the way that you work. I trust you and I am getting better. People are noticing and I am not bothered by ...


A 55 year old man struggling with no sexual desire in new marriage says…

"This is a compliment to you. I hear your voice telling me that I don't need to suffer anymore."


A client from Sidney says…

"It feels good to get those things off my chest and to understand the primitive brain's part in my emotions."


A client from Greater Victoria says…

"You seem to ask the right questions that get us where we need to go."


A client on Vancouver Island, BC

"I'm beginning to wake up. I'm working to own myself more. It might be marvelous."


A Client from Victoria, BC