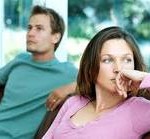 This three part workshop will focus on the skills and beliefs that are part of  Being Married or Committed Well for the Long Haul.
There are four systems of love and romance. Each informed and guided by different hormones. Lust is stage one and it is the horniness that men and women feel towards attractive sexual objects – of which there are many in the world for all of us. Stage two is romance. This occurs with different hormones where the feelings of lust come to focus on one particular person. We want who we want and no other will be enough. As a result of these hormones we are intensely attracted to and attractive for one person. If all goes well we choose a partner and are chosen by that same person. And for a period of time the high of being chosen and lusted after stays with us. Even into the next stage – the attachment stage. Attachment is the family building, nest building stage that goes on for a LONG period of time. Longer than at any time in history. This extended childhood and adolescence enables the complex brains that humans need for modern life to be nurtured and developed. The hormones that enable nest building interfere with lust and romance. Modern couples need to be very savvy if they are to keep their relationship alive and erotic. Being totally child centred for 20 years will kill the relationship between the child's parents.
In the beginning we are able to share more openly with our partner.The powerful potion of lusty hormones encourages us to take risks. There's not much to loose and everything to gain. We exude confidence, passion and interest in our beloved and our self. Later as the hormonal advantage fades, we repress, pull back, with hold. Even accuse each other of changing. The wild open parts of ourself get shut down out of fear of hurting our partner or being judged. And  just by living together, the spouse becomes more important to our personal safety net . Something we don't want to mess with. We won't bite the hand that feeds us.OR  rock the boat too fiercely.  At this stage many people feel they have fallen out of love, that something is going wrong. Or they love their partner, but they are just not IN LOVE WITH THEM ANYMORE.
Since our culture does not promote disclosure of the inner workings of an intimate relationship, nobody gets that there is an important piece of evolution happening in today's marriages. We're suffering: in stoic silence,  in rage, in useless arguments. We're being tested like no other time i n history. At a time when the culture says we should be HAPPY! HAPPY!HAPPY!….. we're not. And we don't know how to " get that lovin' feeling" back again.
This workshop will focus on the skills that women can employ to give their relationship more than a fighting chance to BE GREAT. Men are welcome also, especially spouses or SO. It is advantageous for both partners to attend.
Dates : Wednesdays September 14, 21, and 28 2011
Times : 6;30- 9:30pm 9 hours in total
Register : Call 250- 388-6434. No refunds after September 7.
Mailing address : not workshop space- #2 1517 Amelia Street, Victoria, B.C. V8W 2J9
Facilitator : Jayne Weatherbe
'
"There's something about the way that you work. I trust you and I am getting better. People are noticing and I am not bothered by ...


A 55 year old man struggling with no sexual desire in new marriage says…

"This is a compliment to you. I hear your voice telling me that I don't need to suffer anymore."


A client from Sidney says…

"It feels good to get those things off my chest and to understand the primitive brain's part in my emotions."


A client from Greater Victoria says…

"You seem to ask the right questions that get us where we need to go."


A client on Vancouver Island, BC

"I'm beginning to wake up. I'm working to own myself more. It might be marvelous."


A Client from Victoria, BC